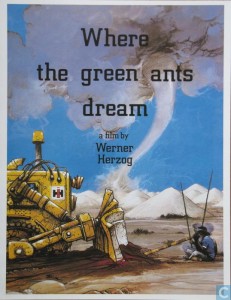 The next Reel Off screening will be of Where the Green Ants Dream (1984), a film written and directed by Werner Herzog. It tells the story of an encounter between an Australian mining company and a group of aborigines native to the extraction site who stand in its way. This is where the green ants dream, they explain, and disturbing their dreaming will destroy humanity. Deploying science, economics and law in order to convince the aborigines that the mining operation should go ahead the white settler doctrine is continuously met with a resistance that rests in a 'way of life' that refuses the reason of its violator.
The film will be presented by Mez, who will be one of the facilitators on Decoloniality London' Decolonisation module. We hope the film will encourage a discussion around the impacts of modernity and coloniality upon indigenous populations.
Practical information
7.00: Door is open
7.15: Introduction by Mez
7.30: Screening of Where The Green Ants Dream
9.15: Discussion
Entrance is free (£3 suggested donations. All proceeds go towards the work at Rumi's Cave). Please bring snacks and non-alcoholic drinks.
Address:
Rumi's Cave
26 Willesden Lane,
Kilburn
London NW6 7ST
http://rumis.org/how-to-find-us/
We look forward to seeing you there.